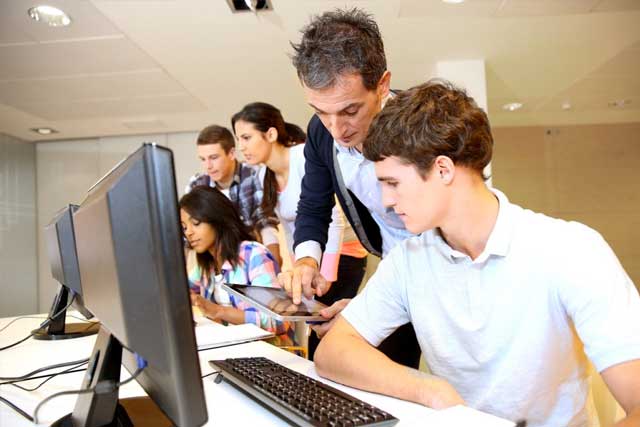 In 2015, technology is becoming a natural part of people. It´s all around us, from workplace to our closest family circles and in our homes. In this digital process, education plays a significant role, not only lets students get necessary abilities to survive in this society focused in the technological knowledge, but also contributes in their own learning experience.
Integrating technology in the classroom goes further than a simple use of a computer and its software; it requires the active participation on the students' side, the interaction between the teacher and the student, the team participation and collaboration and the connection with the real world.
Incorporating these tools to education provides a series of benefits which help to improve the efficiency and productivity in the classroom as it increases the students' interests in their academic activities.
Benefits of Technology in education:
Encourage students to express themselves and relate with other classmates from real and virtual classes, this allows them to learn interactively without depending of being physically in a specific place.
Both teachers and students can reduce the time in which they carry out their activities, making them more efficient. In the case of teachers, they can dedicate more time to their own training, this in the long term will benefit both them and their students.

Learning adaptation, flexibility and capacity. Most advanced students can have access to additional contents and those ones who need some reinforcement can have access to support material.

To develop an academic work is now not necessary for a group of students to get together personally as they can produce some collaborative works.
Technology has stimulated the communication between the lecturers and students by means of virtual environments of the subjects.
The use of new technologies allows the costs reduction. Graphic material is no longer needed and everything can be done by means of software.
Better quality training can be given to the students as more elements and scopes can be collected about a certain subject.
New technologies allow students to satisfy their knowledge interests on unknown areas for them, providing themselves new knowledge.
The technological development of the last part of the 20th century and the beginning of the 21st century has been the one which has generated what is known as the "Knowledge Society".
I would love to hear your comments on how you see the use of technology as important. Please leave me a comment below.