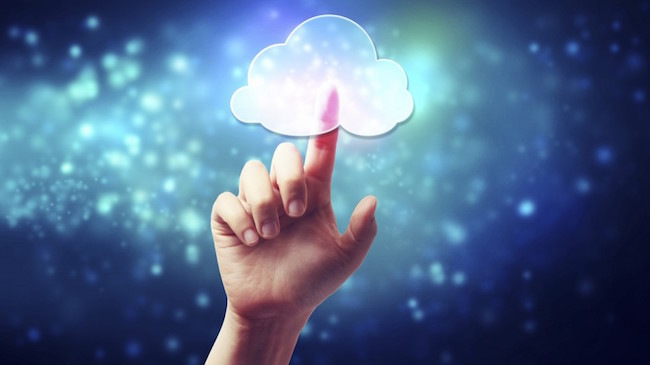 The "Cloud" is a combination of technological resources such as networks, servers and applications in a common pool where companies and people can rent a series of services and storage to their specific needs.
For over 15 years students, teachers and faculty have used free email accounts, whose storage space was not in a specific person's hard drive and was accessible from any computer. Using the same premise today, the range of services available is far wider, and its integration as an academic solution is important.
However, it has advantages and disadvantages
Advantages
1. Improves institutional productivity and makes academic process more efficient
One of the most common uses of the cloud is in e-learning and b-learning programs, as well as traditional courses whose academic resources are available online.
At the same time, access to a repository of online texts and academic material has increased dramatically, as the use of online documents and digitized print media is rising, and people from different campuses can access the same material online. This democratizes the access to information and decreases the costs of managing and leveraging physical inter-departmental loans.
The same online capacity can apply to student's records, making their management more efficient in institutions with different buildings and campuses, where students tend to work from different places in the same day, or even spend a semester abroad. For instance, a printed academic file can be stored in a central archive, and different departments of the university can access an online copy from any place in campus at any given moment.
2. Reduces expenses
Information technology operating and investment costs are reduced, as the university only pays for the services it uses and the storage it needs. The technical team and software engineers can focus in the quality of a campus service, by working in the efficiency of cloud operations in campus, and coordinating that online services are in sync with the rest of the institutional systems.
Higher education institutions can rent particular software packages to be used online from any place, which reduces considerably the cost of purchasing individual or institutional software licenses for a limited number of computers.
3. Boosts collaborative work 
Both students, teachers and administrators can access information from their computers without the installation of a specific program. This makes access flexible and facilitates interdepartmental collaboration. While one area supplies records to a common repository, another area can provide other records. At the same time forms, text files, presentations and spreadsheets can be edited by different people at the same time from any computer, helping in an efficient distribution of tasks and improving the quality of information by boosting peer feedback.
4. Backs up information
Software specialists call it a "redundancy": the same data is stored in more than one place. Cloud computing stores information in a large pool of servers around the world. This helps guarantee a speedy access at any minute, and backs up data in case of any physical or digital problem with a particular server or if in any circumstance, the university is threatened with the loss of critical information.
5. Improves filing and access
Many times, there is limited space to store physical and digital data. The use of cloud computing helps in the process of working and filing historical data and archives not used in daily tasks, but that they are important to keep in storage. For instance, alumni records or historical financial information.
6. Helps financial and HR management
Today, a teacher can manage its paycheck online, and a software system externally processes payments and manages timestamps. This improves the accountability of financial information to external parties, and helps focusing the employee-employer relationship around academic issues. According to Times Higher Education (THE) 76% of UK institutions use the cloud for payment and administration.
7. Improves accountability
While universities need to provide more evidence and indicators to accredit for their academic quality, these platforms facilitate registration and documentation. The university staff doesn't have to invest much time to gather, code and process large amounts of information but only to submit them into the system.
At the same time it helps by keeping confidentiality in evaluations such as academic performance surveys, and in the gathering of external assessments, such as standardized English proficiency tests or higher education placement examinations. At the same time, the cloud's elasticity (which means that there is more capacity available whenever an institution needs it ) can help managing situations where the traffic of information increases dramatically – for instance, in periods of high demand for undergraduate or graduate applications.
Disadvantages
1. Confidentiality
Cloud suppliers have developed protocols to maintain confidentiality and safety of the data their clients store in their servers, and they provide additional warrantees and services to particular customers who need an additional safekeeping of information. Nevertheless this is the main concern of institutions who haven't entered the cloud.
While the cloud's internal security is good, a particular computer terminal might not have the same safety protocols. Therefore, a person might be reluctant to enter confidential information in a computer that can be used by anybody else.
There are also fears about the safekeeping of confidential information in foreign based servers, especially in countries where data protection regulation is not available. UNESCO is aware of these concerns, and states that several cloud suppliers have contracts that guarantee personal data is only stored in determined countries with safe legal systems.
2. Lack of control
As long as an organization centralizes the management of its information in one given cloud software, it is easy to become overly dependent. An institution might have integrated into an intricate network of services that can be shut down overnight or whose costs can rise dramatically with no further notice. Any failure with a single supplier with a centralized system can be critical, thus UNESCO suggests that institutions diversify the number of software suppliers to minimize risks.
3. Dependence of network performance 
These platforms are overly dependent on the current network of a given institution. The higher the volume of information managed through the cloud, the higher the use of broadband or fiber optics. In one hand, this is costly. On the other hand, it may be complex to work in a scenario where an institution is suddenly offline and its software is overly dependent on an online internet connection.
Given this balance, even though cloud computing benefits any higher education institution both in academic and administrative issues, it is highly recommended to check what are your institutions' specific needs and how will it run a cloud based project within in order to monitor performance and address technical issues with a supplying company. The best team available is your internal IT department.
Have you used cloud computing? What questions do you have regarding these solutions? I appreciate your comments and suggestions below.