There are probably many factors influencing the decision of a young university student to drop out of college. We gathered a group of experts to discuss this issue.
What affects the decision of a young university student to abandon its studies? There are probably personal, social, economic or institutional reasons and even a mix of all these. Given this and the fact that it affects 1 in 3 Chilean students, we saw the urgent need to have an initial debate on the issue.
With a broad public audience, experts from the private and public sectors met on April 26 at San Sebastian University's Bellavista campus to debate higher education dropout rates with the aim of understanding the main challenges and outlook.
The event "Dropping out of Higher Education: Challenges and Outlook" was organized by the Corporation of Accredited Private Universities (CUPa) and supported by Chile Científico, a local institution that believes in science as a basis for social transformation.
Although university dropout rates – in contrast to school figures – has decreased over the last ten years, only 13% of students who leave the system re-enroll in a new career, raising a significant challenge for the country's educational institutions.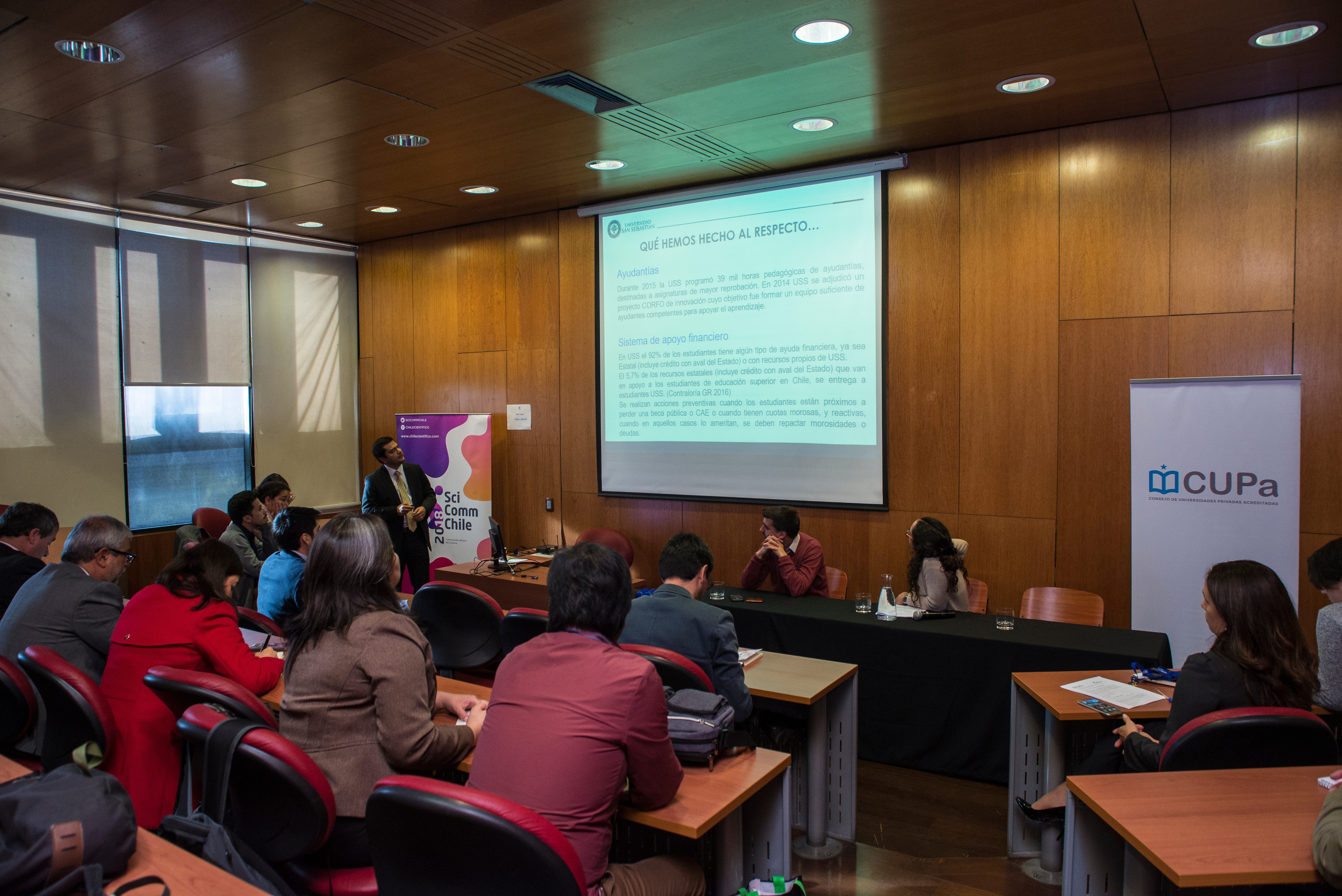 What the experts say
Fabián Riquelme, National Director of Studies of San Sebastián University; Luna Elizalde, Higher Education Information Analyst (SIES) of the Ministry of Education; and Sebastián Flores, Chief Data Officer at U-Planner, were invited to the meeting. The latter provided data of these students to analyze the different perspectives, causes and problems that student dropout brings.
"In the last ten years, dropout rates in our country have decreased by 5.8% owing to both state and private programs," said Luna Elizalde. The analyst and speaker also said that "of all higher education students who drop out, approximately 13% re-enroll in other careers."
Fabián Riquelme spoke about the situation at his university, which has managed to address this multidimensional phenomenon, increasing the retention rate in recent years: "We improved retention rates by 3.3%, the equivalent of 200 new students."
The San Sebastian University Director also said that one of the "cornerstones" of this experience is the creation of the Institute for Student Performance and Support (CREAR). This body is responsible for generating intervention programs designed for each student and focused on strengthening their academic performance.
In a similar line, U-Planner's Sebastián Flores commented that "universities that are open to dialogue and close to society obtain better results." For this reason, this education technology company finds that the use of data of each student is central for decision-making that allows the reduction of dropout rates in a customized way.
Conclusion
The great challenge is to generate meeting points between the different interest groups (university institution, society and family) to effectively deal with university dropout rates.
This is mainly because in most cases the problem is not due to personal, social, economic or institutional factors, but to a combination of some or all of them.