In May, Times Higher Education (THE) released its latest Young University Rankings. This ranking includes the 200 institutions under 50 years old, qualifying standards of performance in teaching, international outlook and knowledge. ¿Which institutions and countries stand apart? What differences does it have with other similar reputation rankings?Many higher education institutions have developed their reputation and standards over the course of decades, if not centuries. However, there are younger institutions trying to place their mark on a very high bar set by the most traditional universities across the globe.
Times Higher Education  adds that, when choosing a university to attend, "it can be easy to get distracted by the old guard (…) But there are many more institutions out there that also deserve your attention."
The ranking was created using the same methodology of its traditional rankings for the best universities of the world:
Teaching (the learning environment).
Research (volume, income, and reputation).
Citations (research influence).
International outlook (staff, students, and research).
Industry income (knowledge transfer).
However, the institution "recalibrated" its weightings to reflect missions of younger universities," to provide the most comprehensive and balanced comparisons, trusted by students, academics, university leaders, industry, and governments".
What is the score, then?
Singapore, South Korea, and Hong Kong universities rise to a prominent place among world higher education institutions. Countries with more historical traditions of higher learning, such as Switzerland, the Netherlands, Italy, and Germany, still place themselves on top.
However, we should keep track of the evolution of higher education in Asia, as their students are no longer reluctantly obliged to go to Europe to find a good education.
Economies like Hong Kong and Singapore are increasingly receiving great numbers of international students. The Hong Kong University of Science and Technology has 38% of people coming from abroad, whereas Nanyang Technological University in Singapore has a 32% rate.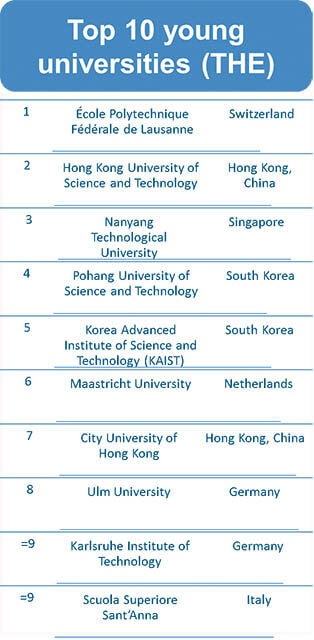 But, are these rankings consistent with other evaluations?
In 2016, Quacqarelli Symmons (QS) also launched a Young University Rankings, and it shows a similar trend, with Singapore, Hong Kong, and South Korea leading the way.
What is the difference, then?
For the Student World Online portal, there may be significant differences that affect the performance of a higher education institution against one or another ranking.
"For QS," they say, "the most important variable seems to be academic reputation, which carries a weighting of 40% in their World Rankings, and 30% in their Regional rankings. For the Times, their Academic Reputation Survey takes up slightly less of the weighting in their World Rankings, at 32%. This means that, if reputation is high on your list of priorities, QS could be the better option."
QS takes a closer look at the faculty-student ratio, academic publications, employer reputation and international students.
The Times Higher Education ranking uses more indicators like industry income or 'knowledge transfer', international outlook and research productivity.
According to the portal, this "arguably makes the Times league table better for those interested in universities that are innovative and multi-cultural, as well as prestigious".
The Telegraph adds another point: their orientation.
The QS rankings are reputation driven, as 50% of their score comes from surveys.
The Times Higher Education, on the other hand, stands up to "more academic scrutiny" as its editor Phil Baty points out.
While there are other differences in these rankings, some trends stand: it is important to keep track of younger higher education institutions, and regions whose education system is bringing out impressive outcomes.
What do you think about these young universities' rankings? Do they do justice to non-traditional institutions?