Managing resources and higher education planning can be a two-way process. A university campus management has short-term goals and tasks, such as classroom allocation and academic scheduling for a given semester. On the other hand, you're immersed in the bigger picture: how is our academic resource planning situated within an entire university campus master plan?
What is a campus master plan?
There is no precise definition, and some higher education institutions might take this for granted.
To Mount Royal University, "a campus Master Plan articulates a shared vision for the University and defines a strategy and set of principles that guides the development of new built form; the laying out of streets and supporting infrastructure; the integration of mobility networks and the creation, enhancement and programming of new open spaces."
Eastern Illinois University adds that "master planning assists in avoiding the errors that could result from planning individual projects on a piecemeal basis. Short-term decisions often give little consideration to the ramification of those decisions. Master plans can address an institution's long-term as well as short-term needs."
How down to earth is your campus master plan?
To Oxford University's International Trends in Higher Education, while international branch campuses are expanding to include non-traditional countries, there have been some "high profile closures" in international venues. These were mainly free-standing and primarily self-funded campuses, as opposed to new campuses opened in conjunction with local partners. One of the reason: the fall of college enrollment.
Not only that: in May 2016 Times Higher Education reported that the London Metropolitan University was to cut 400 jobs (14% of its staff) to move all its teaching to a single campus.
In an interview with Times Higher Education, John Raftery, the university's vice-chancellor, said that "the restructure was needed to address the 'core problem' of the university's unwieldy multi-campus estate."
"If you were to invent London Met tomorrow, it would not look like this," Professor Raftery said.
What went wrong?
This was not only due to a considerable fall in college enrollments in London but to a lack of long-term strategic planning. In 2014, Times Higher Education reported that the university was spending more than a million pounds a year (US$1.3 million) "to rent and service an unused building."
Back in 2006, higher education facilities professionals from Mexico and other countries met at an international seminar in Zacatecas just to revise trends in planning, design and management of higher education facilities, in partnership with the Organization for Economic Cooperation and Development (OECD).
In its concluding remarks Francisco Marmolejo, from University of Arizona, says:
"There is no question that, confronted with the changing needs and means for delivering education, institutional planners and managers need to reconsider the way higher education facilities are designed, planned and managed."
How to reconsider your university master plan?
To the Association of Higher Education Facilities Officers (APPA), these are the top ten most critical higher education facilities issues.
Resource scarcity and affordability.
Performance measurement and accountability.
Customer service.
Information technology.
Developing the laboratory and classroom of the future.
Facility reinvestment and total cost of ownership.
Workforce issues.
Sustainability.
Energy resource management.
Safety, security and business continuity.
One of the most challenging issues for campus management is "do we make a new building or are we optimizing enough our resources?" To Alexandra den Heijer from the Delft University of Technology in the Netherlands, decision making in these scenarios is complex and combine a strategic, financial, functional and physical perspectives.
Source: den Heijer, 2012.
At the same time, she has simulated future models and used international literature to see what types of functions university campus serve and link.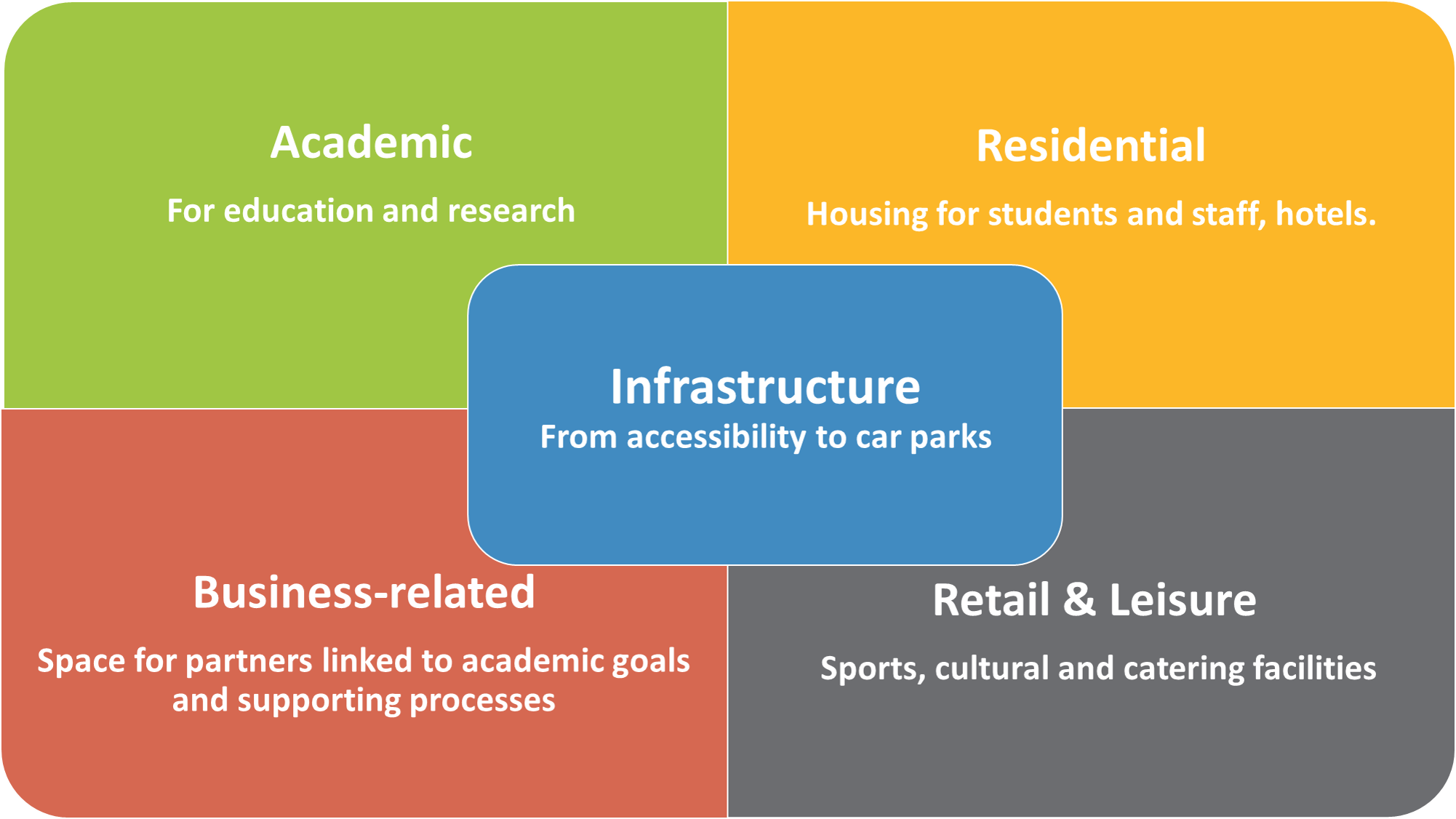 Source: den Heijer, 2012.
In an article by Times Higher Education, reviewed some of the main trends in campus design. Three of them include repurposing buildings and spaces:
"Why tear down an existing structure – an old university building, for example, or a derelict construction in a desirable location – when it could be given a makeover and brought back into service?"
"The nature of university life means that while tens of thousands of students may roam busy campuses for nine months of the year, universities can be far quieter places for the remaining three months, with lecture halls sometimes sitting unused for weeks at a time. One way to address the underuse of university buildings is by sharing them with other organisations. This can help to save money and reduce the university's carbon footprint."
Informal, flexible learning spaces
"The impact of new technology on pedagogy is also influencing university building design," the report states. For instance, the Flipped Classroom which, according to the article. "sees a shift away from students acquiring knowledge en masse in huge lecture halls. Instead, students go through course materials outside class, using video or audio lectures, freeing up staff time for small-group teaching, for example."
How is your higher education institution management working out with your campus master plan?